Procedure at SELF SERVICE KIOSK MACHINE:
one way is activating is through SELF SERVICE KIOSK MACHINES. If you still not able to register Abshir account through Ministry on Interior Website than you could visit any nearest Self Service kiosk machine which allows you to register and activate after following few simple steps. If you still not understand the procedure try to get suggestion from experienced person.
Watch Video On Youtube : How To Actve absher account Urdu Hindi


1- Visit nearest Self Service Kiosk Machine in your area, The first thing you see is selection of Language Choices are ENGLISH and ARABIC select preferred language.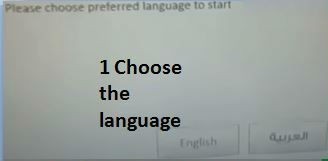 2- Now the machine ask you for ID Card Number(Iqama No.)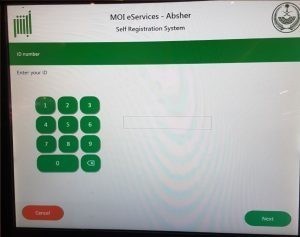 3- The Machine interface ask you to put your index finger of right hand on finger print scanner and index finger of your left hand.
4 - Now you will be given 3 options to Activate MOI Account using KIOSK Machine, Update Mobile Number and Reset Password. People who want to activate their account using a KIOSK machine can select this option. Mr. Abid selected "Update Mobile Number" icon on the screen.

5 - Enter mobile number on which you receive sms of activation from Absher.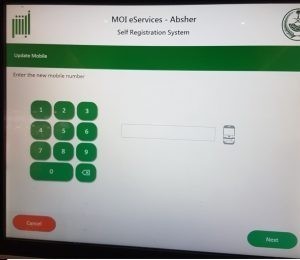 6 - Now your receive a code enter the code in to machine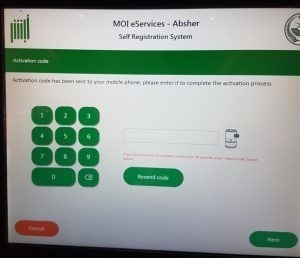 These are the simple steps after completion you receive a message which tells you that your account is activated successfully. Absher account is really beneficial and gives extra ordinary access to many government e services.