Price Apple iPad Air MV1D2 with Facetime in KSA : 3109 SAR
Apple iPad Air 3 (2019): Unboxing & Review
Display: 10.5 Inch Retina Display
Capacity: 256GB
Connectivity: Wifi + Cellular
Rear Camera: 8 MP
Front HD Camera: 7 MP
Chip: A12 Bionic chip with 64 bit architecture
Neural Engine
Embedded M12 coprocessor
Touch ID
This Apple iPad Air comes packed with powerful technologies to deliver a stellar performance. The A12 Bionic chip, with Neural Engine, provides incredible power to this iPad Air. Furthermore, the embedded M12 coprocessor helps it deliver speedy performance without any lag. This allows you to create beautiful presentations, edit a video, play heavy graphics games, or even design a 3D model without stuttering. All the more, this iPad Air has advanced wireless connectivity that delivers incredibly fast Wi‑Fi speeds of up to 866Mbps, keeping you connected wirelessly and effortlessly.
This Apple 10.5inch iPad has a fully laminated 10.5inch Retina display that will help you see the beauty in everything you do. It offers clear and bright images at an incredible resolution of 2224 x 1668 pixels. The high resolution of this iPad lets you see photos, videos, and games in vivid, true‑to‑life detail, giving you a lifelike visual experience. With True tone functionality, this iPad Air allows for easy viewing in any light. Furthermore, this iPad also includes stereo speakers that produce loud and clear audio for immersive listening. This makes the iPad Air perfect for your everyday entertainment.
Capture high-quality pictures and shoot high-definition videos with effortless ease with the powerful cameras of this 10.5inch Apple iPad. It features an 8MP rear camera with f/2.4 aperture that lets you take stunning pictures in different conditions. Furthermore, this iPad Air also features a 7MP front HD camera with f/2.2 aperture that enables you to take exceptional selfies at parties and functions. Also, this iPad Air supports augmented reality technology, which lets you immerse yourself in entertainment as you have never imagined. You can use it to scan a document, sign it, and send it back. Or you can use it to put furniture into your space to see how it looks, and much more.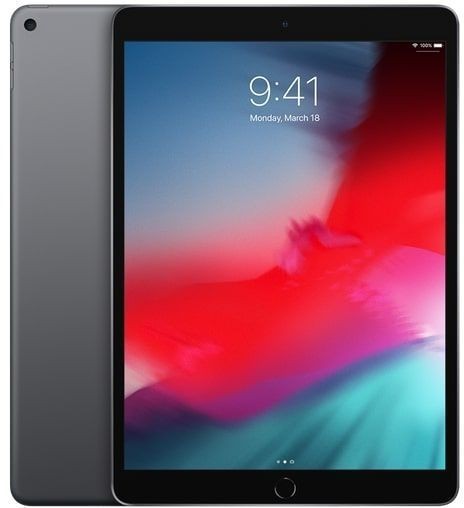 This 10.5inch Apple iPad has a built-in 30.2WHr rechargeable Lithium Polymer battery that provides up to 10 hours of battery life. You can enjoy surfing the web or watch videos or listen to music for up to 10 hours on a single charge.
This Apple iPad Air runs on the most advanced iOS 12 operating system that will make your iPad experience, faster, more responsive, and more delightful. So, the things that you do most of the time, such as launching the camera, typing on the keyboard, opening and running applications, happen faster than ever. Furthermore, this iPad incorporates Touch ID technology that gives you a safe and secure way of unlocking your smartphone.
Explore new possibilities with the powerful Apple MV1D2 iPad Air. Brilliantly designed, this iPad flaunts a space gray finish that imparts it a stylish look and appeal. It sports a 10.5inch Retina display that renders crisp and vibrant pictures. The screen has an incredible resolution of 2224 x 1668 pixels that makes it the ideal pick for watching HD movies and playing heavy-duty games. This Apple iPad features a remarkably powerful A12 Bionic chip with Neural engine and embedded M12 coprocessor that ensures you of a smooth and flawless performance, even when running the most memory intensive apps and games. Furthermore, it features a massive 256GB internal memory that allows you to store all your favorite content in one place so that you can enjoy them in your leisure time. this 256GB iPad packs in a high-capacity 30.2WHr rechargeable Lithium‑Polymer battery that will keep your device powered for long.