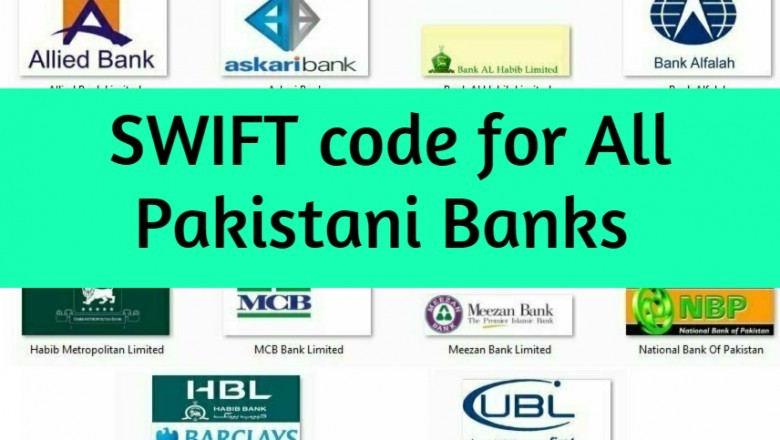 Have you ever transferred money from a bank account in one country to a bank account in another? If so, you've likely utilized the SWIFT system, which is the network banks use to send each other messages, like money transfer orders, securely and accurately. Sindh Bank Limited,
In this post, we share SWIFT  codes for all Pakistan Banks.UBL, ABL, MCB, Meezan Bank , Bank Islami , Askari Bank , National Bank , HBL, ALBARAKA BANK (PAKISTAN) LIMITED, BANK ALFALAH LIMITED , BANK AL HABIB LIMITED, Dubai Islamic Bank Pakistan Limited, Faysal Bank Limited, JS BANK LIMITED, BANK OF KHYBER, The Bank Of Punjab.
SWIFT code for United Bank Limited (UBL)
The BIC/SWIFT code for United Bank Limited is :
UNILPKKA

Bank Name :
(UBL) United Bank Limited

Brach Address :
State Live Building 1 II Chundrigar Road, Karachi 74000, Pakistan.

SWIFT code for ALLIED BANK LIMITED (ABL)
The BIC/SWIFT code for ALLIED BANK LIMITED (ABL) is :
ABPAPKKA

Bank name :

ALLIED BANK LIMITED



Branch address :

ABL, HEAD OFFICE SWIFT UNIT, FLOOR 6, 3,4 NEW GARDEN TOWN, TIPU BLOCK LAHORE

SWIFT code for MCB BANK LIMITED ( Muslim Commercial Bank )
SWIFT code for MCB BANK LIMITED ( Muslim Commercial Bank ) is :

MUCBPKKA

Bank name :

MCB BANK LIMITED ( Muslim Commercial Bank )

Branch address :

I.I. CHUNDRIGAR ROAD, MCB TOWER, FLOOR 3 ISLAMABAD

SWIFT code for MEEZAN BANK LIMITED
SWIFT code for MEEZAN BANK LIMITED is :

MEZNPKKA

Bank name :

MEEZAN BANK LIMITED

Branch address :
MEEZAN HOUSE, C-25 ESTATE AVENUE, SITE KARACHI SOUTH SINDH KARACHI

SWIFT code for BANKISLAMI PAKISTAN LIMITED
SWIFT code for BANKISLAMI PAKISTAN LIMITED is :

BKIPPKKA

Bank name :

BANKISLAMI PAKISTAN LIMITED

Branch address :

EXECUTIVE TOWER, DOLMEN CITY, BLOCK-4 FLOOR 11, CLIFTON KARACHI

SWIFT code for ASKARI BANK LIMITED
SWIFT code for ASKARI BANK LIMITED is :
ASCMPKKA

Bank name :

ASKARI BANK LIMITED
Branch address :
AWT PLAZA, THE MALL, PUNJAB RAWALPINDI

SWIFT code for NATIONAL BANK OF PAKISTAN (NBP)
SWIFT code for NATIONAL BANK OF PAKISTAN (NBP) is :

NBPAPKKA

Bank name :
NATIONAL BANK OF PAKISTAN
SWIFT code for HABIB BANK LIMITED (HBL)
SWIFT code for HABIB BANK LIMITED (HBL) is :

HABBPKKA

Bank name :
HABIB BANK LIMITED

Branch address :
M.A. JINNAH ROAD KARACHI

SWIFT code for ALBARAKA BANK (PAKISTAN) LIMITED
SWIFT code for ALBARAKA BANK (PAKISTAN) LIMITED is :

AIINPKKA

Bank name :

ALBARAKA BANK (PAKISTAN) LIMITED

Branch address :

TRADE CENTRE, FLOOR 4, I.I. CHUNDRIGAR ROAD KARACHI

SWIFT code for BANK ALFALAH LIMITED
SWIFT code for BANK ALFALAH LIMITED is :

ALFHPKKA

Bank Name :
BANK ALFALAH LIMITED
Branch address :

I.I. CHUNDRIGAR ROAD, B.A. BUILDING, FLOOR 1 KARACHI

SWIFT code for BANK AL HABIB LIMITED
SWIFT code for BANK AL HABIB LIMITED is :

BAHLPKKA



Bank Name :
BANK AL HABIB LIMITED
Branch address :

I.I. CHUNDRIGAR ROAD, MACKINNONS BUILDING KARACHI

SWIFT code for Dubai Islamic Bank Pakistan Limited
SWIFT code for Dubai Islamic Bank Pakistan Limited is :

DUIBPKKA

Bank Name :
Dubai Islamic Bank Pakistan Limited

Branch Address :
HASSAN CHAMBERS, DC-7, BLOCK-7, KEHKASHAN CLIFTON KARACHI

SWIFT code for Faysal Bank Limited
SWIFT code for Faysal Bank Limitedis :

FAYSPKKA

Bank Name :
Faysal Bank Limited

Branch Address :
TRADE CENTRE, 11/13 I.I. CHUNDRIGAR ROAD KARACHI

SWIFT Code for JS BANK LIMITED
SWIFT Code for JS BANK LIMITED is :

JSBLPKKA

Bank Name :
JS BANK LIMITED

Branch Address :
SHAHEEN COMPLEX, DR. ZIAUDDIN AHMED ROAD KARACHI

SWIFT code for Sindh Bank Limited
SWIFT code for Sindh Bank Limited is :

SINDPKKA

Bank Name :
Sindh Bank Limited
Branch Address :
28/5 ABDULLAH SHAH GHAZI ROAD ST, CLIFTON, FEDERATION HOUSE, FLOOR 3 KARACHI

SWIFT code for BANK OF KHYBER
SWIFT code for BANK OF KHYBER is :

KHYBPKKA

Bank Name :
BANK OF KHYBER

Branch Address :
24 THE MALL ROAD, THE MALL PESHAWAR

SWIFT code for BANK OF PUNJAB
SWIFT code for BANK OF PUNJAB is :


BPUNPKKA





Bank Name :

Bank Of Punjab




Branch Address :

7 EGERTON ROAD LAHORE





#SWIFTCODE #PAKISTANIBANK #INTERNATIONALBANKACCOUNT