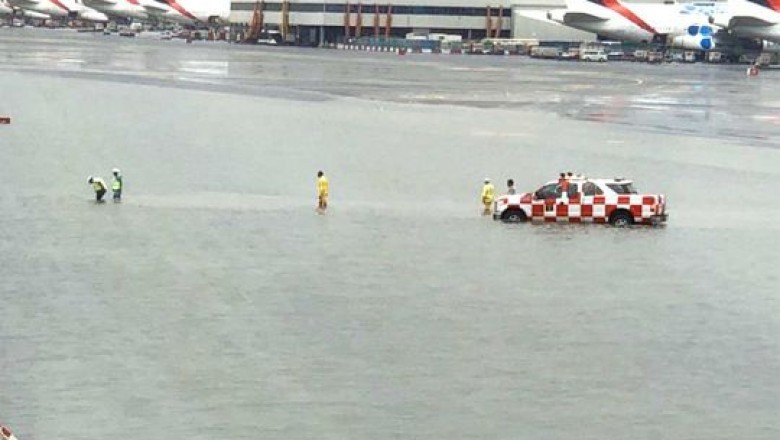 Due to incessant rains in the UAE, flights to Dubai can be affected.
Dubai Media Center said in its account on Twitter that "some flights to Dubai airport are likely to be affected due to rains in the country".
The media center has said that in the next 24 hours, it is likely that some flights will be canceled, some delayed while some will be flown to other airports.
2. Dubai Media Office on Twitter
مطارات #دبي: نظراً لتوقع استمرار هطول الأمطار الغزيرة مساء اليوم، فقد يستمر الاضطراب في بعض عمليات المطار خلال الـ 24 ساعة المقبلة، من الممكن حدوث تأخير أو إلغاء لبعض الرحلات أو تحويلها.
نعمل ما بوسعنا مع شركائنا في الخدمة لاستعادة العمليات الى كامل طاقتها في أقرب وقت ممكن.

— Dubai Media Office (@DXBMediaOffice) January 11, 2020
"We are doing our best to provide the best possible service to our participants," the media center said.

On the other hand, according to Al Arabiya, the Dubai Airport administration has advised travelers to contact the airline before arriving at the airport due to weather conditions. Travelers should leave their homes long before arriving at the airport '.
Meanwhile, Fly Dubai has issued a statement saying that "bad weather has affected our flights today".
The airline has said that "certain flights have been delayed while some have been flown to other airports in the country".
5. حسين القحطاني on Twitter
https://twitter.com/reslek201341/status/1216018428361945088
It is to be noted that after the torrential rains in the United Arab Emirates, water was poured on the roads, causing traffic flow. The public has been barred from leaving unnecessary exit on Dubai's highways.