In 2023, Saudi Traffic updated its traffic fines, making changes to certain penalties. The fines for violating the rules are categorized into eight different types, each with its own specific penalty. 
Introduction
Explain what traffic violations are and why they are important to prevent accidents and injuries
Mention some common traffic violations such as speeding, running red lights, drifting, etc.
State the main purpose of the article: to inform the readers about the updated list of traffic violations and fines in Saudi Arabia in 2023
Traffic Violations and Fines by Category
Provide a brief overview of the traffic violations and fines list and how it is divided into 8 categories according to [this source]
Category 1: SR 20,000 to SR 60,000 and 24 points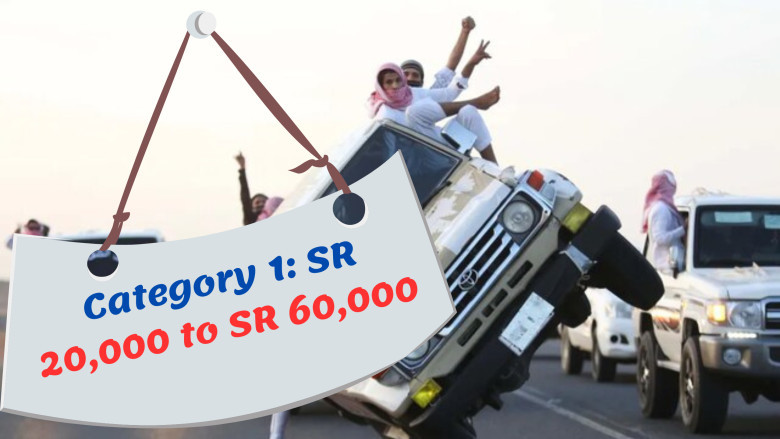 Recently, the Saudi government introduced a new traffic violation category with revised penalties. The individuals who violate the traffic laws in this category will face a fine ranging from SAR 20,000 to SAR 60,000. The perpetrator will face other punishments and receive 24 traffic violation points.
Drifting for the 1st time is punishable by a fine of SR 20,000.
Drifting for the 2nd time is punishable by a fine of SR 40,000.
Drifting for the 3rd time is punishable by a fine of SR 60,000.
Category 2: SR 5,000 to SR 10,000 and 24 points

24 traffic violation points will be added to the offender's record because of this offense.
Driving while intoxicated; driving under the influence of alcohol or drugs.
During a flood, Passing or crossing the flooded valley.
If the animal owner cannot keep their domestic animals away from the roadside.
Conducting road repairs without notifying the relevant authorities.
Change or conceal the chassis number of the vehicle.
Category 3: SR 3,000 to SR 6,000 and 6 points

If you drive a vehicle without a front or back plate, the vehicle will be held until the violation is settled.
Drive the car in the opposite direction.
Moving recklessly in between vehicles on public roads.
It's against the law to overtake vehicles on curves and uphill.
Revealing and unfastening the transported loads.
Not stopping fully at the stop signal.
If vehicles are moving on a priority road, driving through a signal without stopping is given priority.
Using public roads for car racing.
Overtaking a stationary school bus that is receiving or dropping off students. The offender's record will receive four traffic violation points due to this violation.
Category 4: SR 1,000 to SR 2,000 and 4 points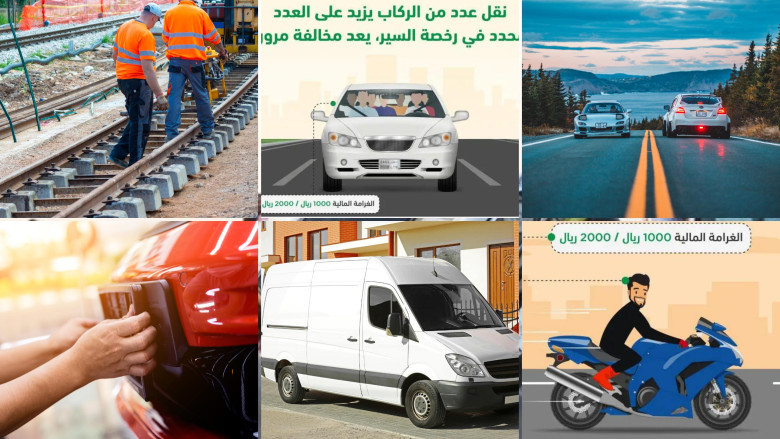 The penalty for violating Category 4 rules will be a fine ranging between SR 1,000 to SR 2,000, which will be imposed on the individuals.
If you are caught standing or stopping your vehicle on railway tracks, it will charge you a fine with 6 traffic violation points.
Exceeding the passenger limits in a car violates the law and can result in penalties.
Driving on the yellow lane/shoulder or disregarding lane markings.
Blurred or damaged number plates.
Vehicles left on public roads.
Passing cars while going uphill or around curves.
Not presenting Istimara (Car Documents) or Iqama (Saudi ID).
Vehicles cannot be exported within the given time frame.
Riding a motorbike without a helmet results in 2 traffic violation points.
Ignoring the ambulance's right of way.
Pedestrians were crossing the road from undesignated spots.
Category 5: SR 500 to SR 900 and vehicle confiscation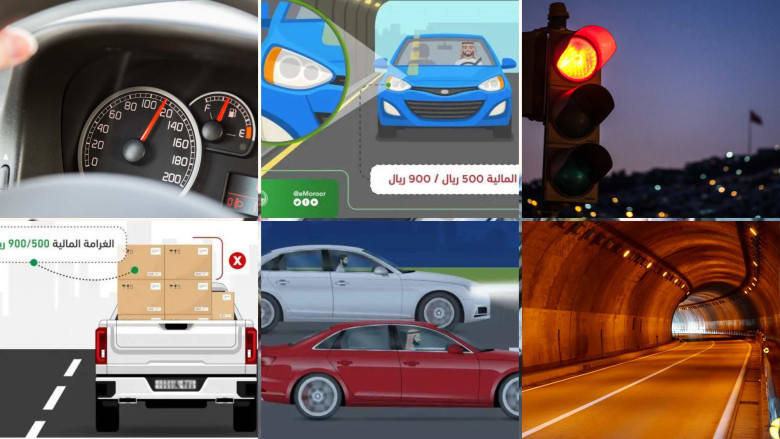 Those who commit traffic violations in Category 5 face fines ranging from SR 500 to SR 900.
Driving without a valid license.
Exceed the speed limit by over 40 km/h.
Using emergency vehicle sirens when not needed.
Driving at high speed through traffic and accumulating 8 traffic violation points.
Ignoring the signal with the priority sign.
Not using headlights during bad weather or at night while driving.
Disregarding traffic police hand signals during traffic management leads to 8 traffic violation points.
Driving a vehicle without brakes is putting lives in danger.
Driving in tunnels without lights.
If caught using a mobile phone while driving, 2 traffic violation points will be given.
Parking in the spot assigned for special needs drivers.
Truck loading without safety precautions. 4 traffic violation points for revealing and unfastening transported loads.
Category 6: SR 300 to SR 500 and removal of tinting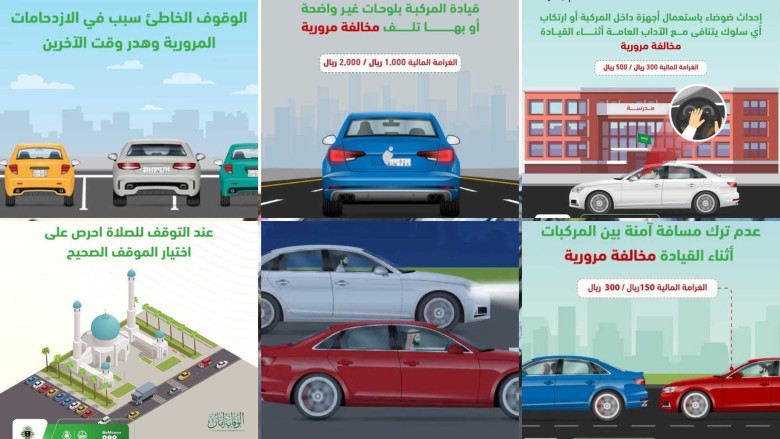 Those caught committing category six violations will have to pay a penalty that can be as high as SR 500 or as low as SR 300.
Exceed the speed limit by over 25 km/h 4 traffic violation points.

If you cross the official check post with a speed exceeding 25 km/hour, it may result in a violation of traffic rules.

The penalty for crossing a lane illegally is 4 traffic violation points, which will be added to your record.

Modifying a vehicle's body without permission results in 4 traffic violation points.

In case a driver operates a vehicle that contaminates the nearby environment.

Violating traffic regulations at intersections can result in 6 points on your record.

Unauthorized usage of the vehicle.

Disregarding the use of child safety seats.

Placing dangerous items on public roads

Not giving way to emergency vehicles and VIPs.

Driving while license is expired.

Moving too slowly, hindering the flow of traffic.

Not engaging the handbrake while parking the vehicle on a slope.

Major accidents can result from sudden braking.
Category 7: SR 150 to SR 300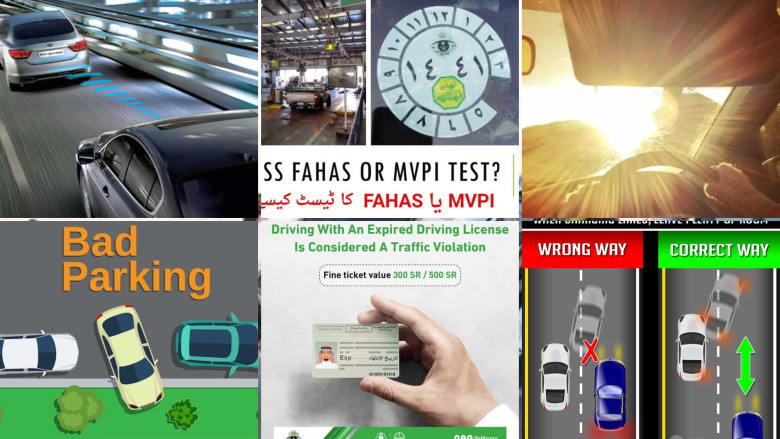 Saudi Arabia will impose fines ranging from SR 100 to SR 300 on those who commit category 7 violations following the 2023 traffic rule update.
Performing the act of nose-picking while driving.
Violation of trailer equipment regulations.
Driving a vehicle with an expiry Fahas.
Not keeping a safe distance from the car in front of you.
The use of bright lights violates rules.
Unsafe parking on public roads.
Placing bars within the vehicle to block the driver's vision.
Driving without a valid car permit.
Not wearing a seatbelt while driving results in 2 traffic violation points.
Misusing the vehicle's horn.
Changing lanes without using turn signals.
Driving in reverse on a highway for over 20 meters.
The range between SR 100 to SR 150 belongs to Category 8.
In Saudi Arabia, traffic violations falling under category 8 are subjected to a minimum fine of SR 100.
It's not allowed to throw objects out of a moving vehicle.
Exiting or entering a moving vehicle.
Non-compliance of pedestrians with their signals.
Driving a car with no valid insurance.
Leaving a vehicle with the engine running.